About "The Walk"
Tucker's Walk is named for Tucker, a very special Afghan Hound. On daily walks to every corner of the farm, Tucker taught us to enjoy sitting and looking. The dream of a vineyard was hatched during these walks.
Tucker passed away in 2006, but the dream lives on. We now have two Afghan Hounds, Jilly and Vinny, who help us every day with our vineyard work. "The Walk" is a wonderful place, and we count ourselves fortunate to be able to live here and share our experience with others.
We purchased land surrounding our acreage in fall 2006. We then had room to expand the vineyard in an area that was optimal for grapes – southern exposure and cold air drainage. In 2007, we fenced 13 acres with 8-foot tall high-tensile woven wire game fence to keep the deer out. With the generous help of family and friends we planted our first full acre of plants. Of the 565 plants, all but two grew. Over Memorial Day weekend 2008, the second acre was planted. In 2009, almost an acre of St. Croix and a smaller numbers of Frontenac Gris and Marquette went in. In 2010, St. Pepin and Marquette were planted on top of the hill. All in all, 3500 plants on 6 acres.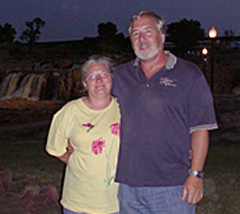 We are still experimenting with and learning about the winemaking process. There is a lot to learn, but our early attempts have been quite successful. In July 2010, we became South Dakota Farm Winery #15, got our Federal permit as a bonded winery, and received label approvals for our first offerings. The Pipestone Farm Market News ran an article (here) that is newsy and factual. It's been quite an adventure so far, and we are just beginning.
We welcome friends and neighbors to contact us for a tour, and we welcome their participation in the fall harvest.